The boutique suite life for VIPs
Your quest for a spacious hotel suite in Santa Barbara is now complete. Take a look at our Nesting Collection of three Guestroom Adjoining Hotel Suites, and see why the suite life is best at Kimpton Canary:
All suites are connected by private hallways so your group can spread out in style.
Spacious living rooms to accommodate several guests
Intimate design inspires a sense of privacy and exclusivity.
Mediterranean-inspired accents include canopy beds and hardwood floors
Communication accessible features are available upon request.
<
>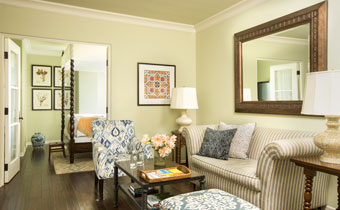 Nesting Collection
3 Guestroom Adjoining Suite Collection Includes:
1 King Suite with King Bed and a Separate Living Room with Sofa, Coffee Table, Chairs, and Full Armoire Entertainment Center.
1 Junior Suite with King Bed and a Petite Lounging Area within Bedroom with Small Sofa and Coffee Table
1 King Room
Full Luxurious Bathrooms in Each Room
All Rooms Open Up to Connected Private Hallway
For more information and to book, please contact the Sales Office at (805) 879-9143 or email sales@canarysantabarbara.com
Enhance Your Stay: Let's Celebrate
Whatever the occasion, we'll help you celebrate with two bottles of local sparkling wine delivered to your collection.
$50.00 + tax
Enhance Your Stay: Wine Tasting
Explore the historic Wine Collection of the Presidio with complimentary tastings (for four) at some of our favorite wine partners, just two blocks away.
$30.00 + tax